Our catalogue already offers a wide variety of domestic and international short-term and holiday trips. Round trips, city tours or day trips – Our tourism department will gladly advise you. In addition, we plan your trip and ensure that everything runs smoothly – from A like accommodation to S like satisfaction.
Day trips
Get inspired by our over 100 day trips with diverse and exciting experiences. Click here:
Bösche bus trips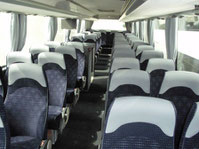 Our bus trips to various destinations will always bring about numerous impressions that you will be thinking about for a long time. You can look forward to new places, people and interesting trips. Travel buses for long trips are equipped with the latest technology, ergonomic sleeping chairs, toilet, galley, air conditioning and TV.

For group transfer to day trips or short trips we provide the luxury conditions of modern full-comfort shuttle buses.
Individual offers
We will turbocharge you – and make anything possible. May it be single one-way-trips out of Hamburg or large event support – with us you are always on the right track.
We provide the necessary capacities to fulfil your travel aspirations to the smallest detail. It is our pleasure to provide you with an individual offer for your travel group. We offer the finest solutions – from day trip to longer domestic or international holiday travels. We answer all special wishes and requirements that you may have and package them for a rich and relaxing travel experience. We are looking forward to your call!

Our current offers can be downloaded as PDF HERE.

Furthermore, we will compile tailor-made travels together with our individual holiday service – according to age and interests and of course within the given financial budget. We are looking forward to your call!
Shuttle-Service
For people with physical restrictions we have developed unique mobile solutions. I.e., we are in possession of dedicated sprinter trucks for the transport of people with disabilities.
Thanks to the feature of lowering the rear of the vehicle, wheelchairs can be pushed up the ramp easily. This also guarantees maximum security. Wheel chairs are located tightly in special applications with buckles designed to secure them. Additionally the person in the wheel chair will be secured by a three-point belt which is anchored tightly in the ground.

Integration lies at our heart. Therefore, we also provide the option to bring mixed groups of people with and without disabilities to their destination so that they can share their travel experience. Our minibuses provide space for six wheelchair users that can reach the passenger compartment using a pneumatic man lift while providing additional 25 seats.

Among our clients are senior residences, schools or facilities for people with disabilities.
A ride on the St. Pauli team bus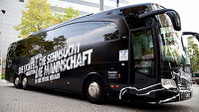 You are a FC St. Pauli fan and you've always wanted to know what being driven to away matches feels like for the team? It is our pleasure to make your dream come true!

Bösche Reisen lets you experience the driving pleasure of professional footballers. Take a seat on one of 30 comfortable leather seats in the noble ambience of an original team bus of FC St. Pauli and enjoy the ride from the first moment on! During the day, the seats can be used with a table, on long trips they can easily be converted into a bed seat. The bus has air conditioning, a satellite receiver, Wi-Fi, an on-board toilet, 4 monitors, CD and DVD player as well as a bistro kitchen.

It will be a travel experience for every age! With our FC St. Pauli bus, both day trips and one-way transfers are possible.
The prying eyes of pedestrians that will try to spy through the tinted windows, incidentally, are a special treat that you should not miss. Indulge yourself in this exceptional and unforgettable experience.
How to get on the bus? Register via email to info@boesche-reisen.de with the subject "St. Pauli bus." The email should contain all your important personal data as well as the desired travel date, time and the planned route.
Convenient booking:
You can easily book all day trips, bus tours, city tours or guides from our own catalogue by phone or during a personal counselling session with us at our headquarter.
Customized holidays: We customize your trip according to your preferences. According to the specifications of our customers, we develop group travel and group day trips. We provide the perfect vehicle appropriate to the size of the travel group. The selection ranges from the minibus with 16 seats to the double-decker bus with 78 seats. Our taxi service will take you to different places. For special trips, we arrange the FC St. Pauli bus together with its driver.
Trained personnel:
Highly qualified drivers take care of your safety during the entire trip. In addition to regularly taking part in safety trainings held by our own bus-driving instructor they, often possess decades of professional experience.
Comfort
We make it comfortable for you – from the very beginning. You demand the best on-board service? No problem. Upon your request, a hostess provides anything you need for your wellbeing, including a lunch package. In addition, our handpicked and tested star-hotels provide the highest quality standards.
Contact
Bösche Reisen
Owner Braaker Bustouristik GmbH & Co. KG
Albert-Schweitzer-Ring 5-7
22045 Hamburg, Germany
Phone: +49 40 / 20 00 11 29.
We are member at
Bösche Reisen
Albert-Schweitzer-Ring 5-7
22045 Hamburg
Tel: 040 - 2000 11 29
Fax: 040 - 2000 11 48
---
Departures
All departures from HH-ZOB, Wandsbek Schloßstr., Bhf. Tonndorf, Bhf. Rahlstedt, Bhf. Ahrensburg, Herold-Center Norderstedt und U-Bahn Station Norderstedt Mitte. You will find the departure time in our catalogue and on your travel confirmation. Group discount of 5% for groups of 10 people (common registration and payment) only for day trips.

Departures with reservation from Lübeck central station, Kiel central station, Harburg station, Lüneburg station and Glinde station possible.